Year 7 Catch Up
Year 7 Catch Up Premium:
The school receives Year 7 Catch Up Premium. In 2019/20, Woodlane is expecting to receive £8,300 in Year 7 Catch Up Premium, due to a slightly larger cohort than in 2018/19 when the school received £7,700. In 2017/18, the payment received amounted to £5,867. Historically this was paid per pupil in Year 7 who failed to achieve a level 4 by the end of KS2 (all pupils in the cohort). The formula was adjusted in 2016/17 so that the school will always receive a similar amount per pupil as the previous year, adjusted for increases or decreases in the cohort size. In 2016/17 Woodlane received £7,700.
The DfE suggests that a school should, "assess the individual needs of each of the pupils who attract the year 7 catch-up premium to decide the best way to use the funding". Suggestions include; "individual tuition, intensive small-group tuition, external services and materials, summer schools that help students catch up over a short period of time." The school uses this funding to pay for Year 7 targeted interventions coordinated and delivered by the school's Lead Practitioner. Progress towards this year's goals is described later in the document.
Areas for Improvement (for next reporting cycle – 2019/20):
Specific areas for improvement are planned to be supported through additional Funding (including Year 7 Catch Up) for the 2019/20 academic year. Woodlane groups these areas for improvement under the following headings:
Close the gap in terms of outcomes achieved and progress for pupils between pupils in Year 7 who failed to achieve the expected standard in reading or maths at the end of Key Stage 2 and their peers.
Further improve the behaviour, attendance, punctuality and general well-being of key groups including pupils in Year 7 who failed to achieve the expected standard in reading or maths at the end of Key Stage.
To ensure staff are equipped with increased knowledge and understanding in order to support disadvantaged pupils.
See the Woodlane SEF and SIP 2019/20 for further information with further detail provided in the Additional Funding document below.
Key Use of Year 7 Catch Up:
The school uses Year 7 Catch Up Funding to support the work of the Year 7 Transition teachers but allowing for targeted interventions to be coordinated and delivered by the school's Lead Practitioner. These interventions range from basic literacy skills, touch typing, dyslexia support to numeracy. The outstanding work undertaken in Year 7 allows all pupils to make outstanding progress and ensure other elements such as attendance are high compared to the rest of the school and national figures.

The table above demonstrates that, compared to the school's flight path, almost all pupils in 2018/19 met their expected progress. Almost 50% of pupils were exceeding their expectations after only one year at the school.
A pupil needs to be working within the level above their expected level to be 'exceeding expectations'. This is a cumulative form of assessment, which builds on all previous years. Therefore, the older the pupil, the greater the opportunity to exceed expectations. A different form of assessment, using the Yearly Extension Targets assessment (below) is much more useful as it provides a snapshot of progress from this year only, allowing Year 7 progress to be assessed alongside their Woodlane peers.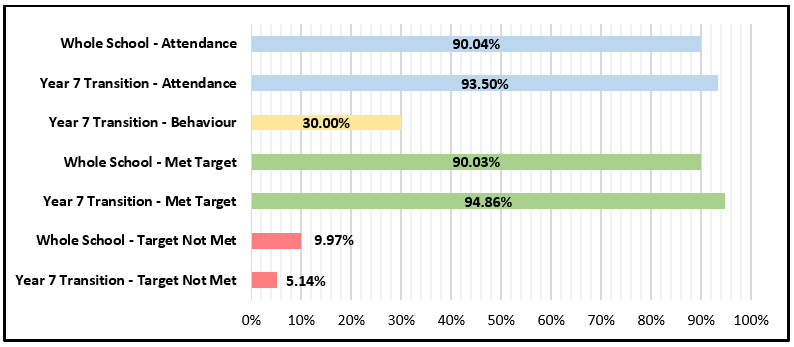 The table above highlights that a very high proportion of Year 7 Yearly Extension Targets (green) were met in 2018/19. The proportion is around 5% higher than the rest of the school. Year 7 attendance was 93.5% compared to the whole school figure of 90.4%.
Year 7 accounted for 30% of all referrals, whilst Year 7 pupils accounted for 21.3% of the school cohort. Although this is high, the excellent behaviour of KS4 pupils and significantly reduced number of office referrals highlights that transition and KS3 as a whole prepares pupils well for KS4. This allows pupils time to adapt and take on school rules and expectations, leading to a significant decrease in referrals over time.
For more information on pupil progress, see our data dashboard.