Homework
School Closure:
A huge well done to pupils completing homework tasks during closure, we are so impressed!
Please note, there is no pressure from the school to complete each and every task set by teachers. We understand that each child and their parent/carer will have their own very unique set of circumstances at this challenging time. Therefore, we offer the following advice:
Tasks are currently set, where possible, in line with pupil timetables, please refer to your child's timetable in their diaries.
Tasks are usually set by 10.30 each morning.
Tasks are differentiated, therefore, you and/or your child can select the task most appropriate to their ability.
During the Easter break, the school is setting weekly project based tasks. We appreciate that all families will have different personal circumstances at this time, therefore these tasks are not a requirement and are available if/when you may need them.
Encourage your child to complete at least some of the set tasks on a daily basis.
Encourage your child to complete a range of activities and subject areas.
Where possible, set a routine for your child, including homework and leisure time.
Praise your child for completion of each task.
We must also advise that due to the length of closure we will unfortunately, be unable to mark all tasks completed. We therefore ask that pupils select the 10 pieces they are most proud of to be marked and rewarded for on their return.
We thank you very much for your hard work as parents/carers to support your child with their learning during closure. We understand how challenging this may be.
Please contact us if you require any support or guidance.
Previous Guidance:
Pupils in Key Stage 3 and Key Stage 4 will receive subject specific homework on a weekly basis.
Following consultation with pupils, parents and staff, pupils in Key Stage 3 will receive differentiated homework in the following format and are expected to complete at least one task: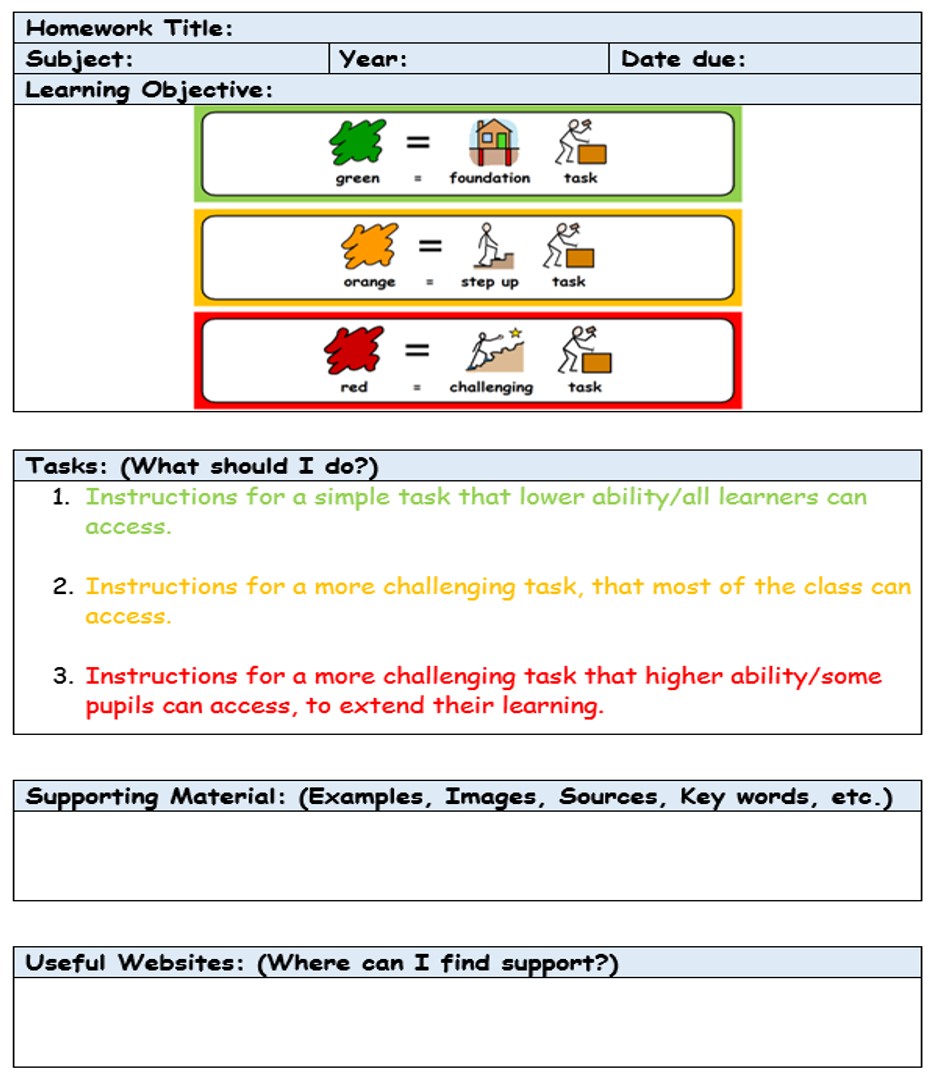 To find out this week's homework select the appropriate year group.