Pupil Premium Funding
The Pupil Premium allocation is an additional £935 payment made to a school, that is attached to each of those pupils who receive free school meals under the Ever6 measure. Pupil Premium is reported on annually at the end of the academic year. The most recent completed year is 2020/21 and an overview is presented below. Download the full report at the bottom of the page for more information, or to explore the school's planning for 2021/22.
Guidance states that Pupil Premium funding should be used for "raising the attainment of disadvantaged pupils and closing the gap with their peers." The table below highlights a significant fall in numbers receiving PP from 2015 and 2016. The impact of universal free school meals in KS1 led to a dip in the proportion of parents claiming FSM, despite being eligible. See the PP evaluation documents below for details on how money received was allocated and spent in previous years.

NB: If a pupil joins roll or leaves mid-year the school may only receive partial PP funding.
Planning:
The school uses 3 distinct areas to identify and define how finance will be spent. These tie in to the DfE advice and guidance regarding Pupil Premium and all other additional funding streams.
These include:
To close the gap, in terms of outcomes achieved and the progress of pupils between:

pupils in receipt of pupil premium and their peers, and
pupils in Year 7 who failed to achieve the expected standard in reading or maths at the end of Key Stage 2 and their peers, and
all pupils, in comparison to where we would have expected them to be had the Covid-19 pandemic not impacted education so greatly, and
pupils from more deprived backgrounds, who have inevitably been more significantly affected by the Covid-19 pandemic, in comparison to their peers.

Further improve the behaviour, attendance, punctuality and general well-being of key groups including:

pupils in receipt of pupil premium, and
pupils in Year 7 who failed to achieve the expected standard in reading or maths at the end of Key Stage 2, and
pupils who are returning to school after significant periods of absence caused by the Covid-19 pandemi

To ensure staff are equipped with increased knowledge and understanding in order to support disadvantaged pupils.
Impact:
Outcomes: (Year 11 Qualifications – Value Added)
In 2019/20, pupils who received funding through Pupil Premium (PP) made up 30% of the Year 11 cohort. In 2020/21 this had risen to 42% of the cohort. This drop in the proportion of pupils in receipt of PP was a one-year dip, as the school usually operates around 40-45%. The detailed expenditure of Pupil Premium can be found on the school website. The graph for 2019/20 is shown below. In previous years, the comparison of the performance of PP and Non-PP pupils has shown few explicit trends, with both sets of pupils performing consistently well. A small gap of 4% is present between pupils meeting expectations in favour of pupils in receipt of PP, whilst the reverse is true when looking just at the proportions exceeding expectations.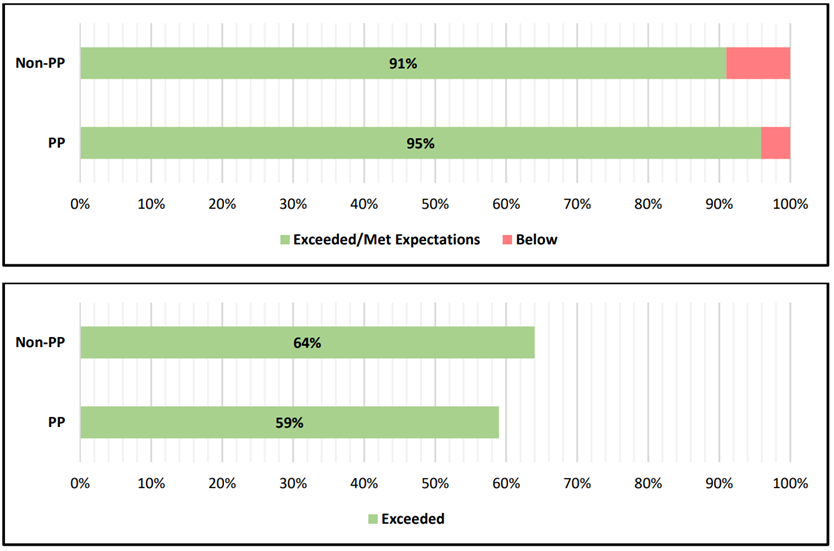 The DfE have published data on disadvantaged pupils, in which they state that 69% of disadvantaged pupils achieved a grade 3 or above in 2020 core subject qualifications. This compares to 95% of non disadvantaged pupils. This demonstrates a 26% Pupil Premium attainment gap nationally. Although the benchmark is different, the national gap is significantly wider than the 4-5% gap in achievement seen at Woodlane. This can be analysed further by looking at a year on year comparison in the graph below. The results at the top of the graph (thick lines) are expectations met, whilst those lower down (dashed lines) are expectations exceeded. Woodlane has been tracking the achievement of those pupils in receipt of Pupil Premium in English, Maths and Science for seven consecutive years under the same measure. The graph shows how far these groups have come and how narrow the gaps between them are.
Progress: (Internal Assessment)
Woodlane has compared the progress of those pupils who receive Pupil Premium (under the Ever 6 formula) and those pupils who do not, within English, Maths and Science. In the Spring Term, those who receive PP outperformed their peers. The progress gap was 4%. In the Summer Term the gap has closed further to 1.88%, with those in receipt of PP still outperforming those who do not.

When looking at expectations exceeded, those who received PP did not make as rapid progress as their peers. The gap is 2.7%, which has narrowed from 3% in the Spring term.

For further information please visit the DfE website by clicking here or watch our presentation on Pupil Premium funding at Woodlane High School below.