Performing Arts
Navigate to the following curriculum areas using the topic buttons below: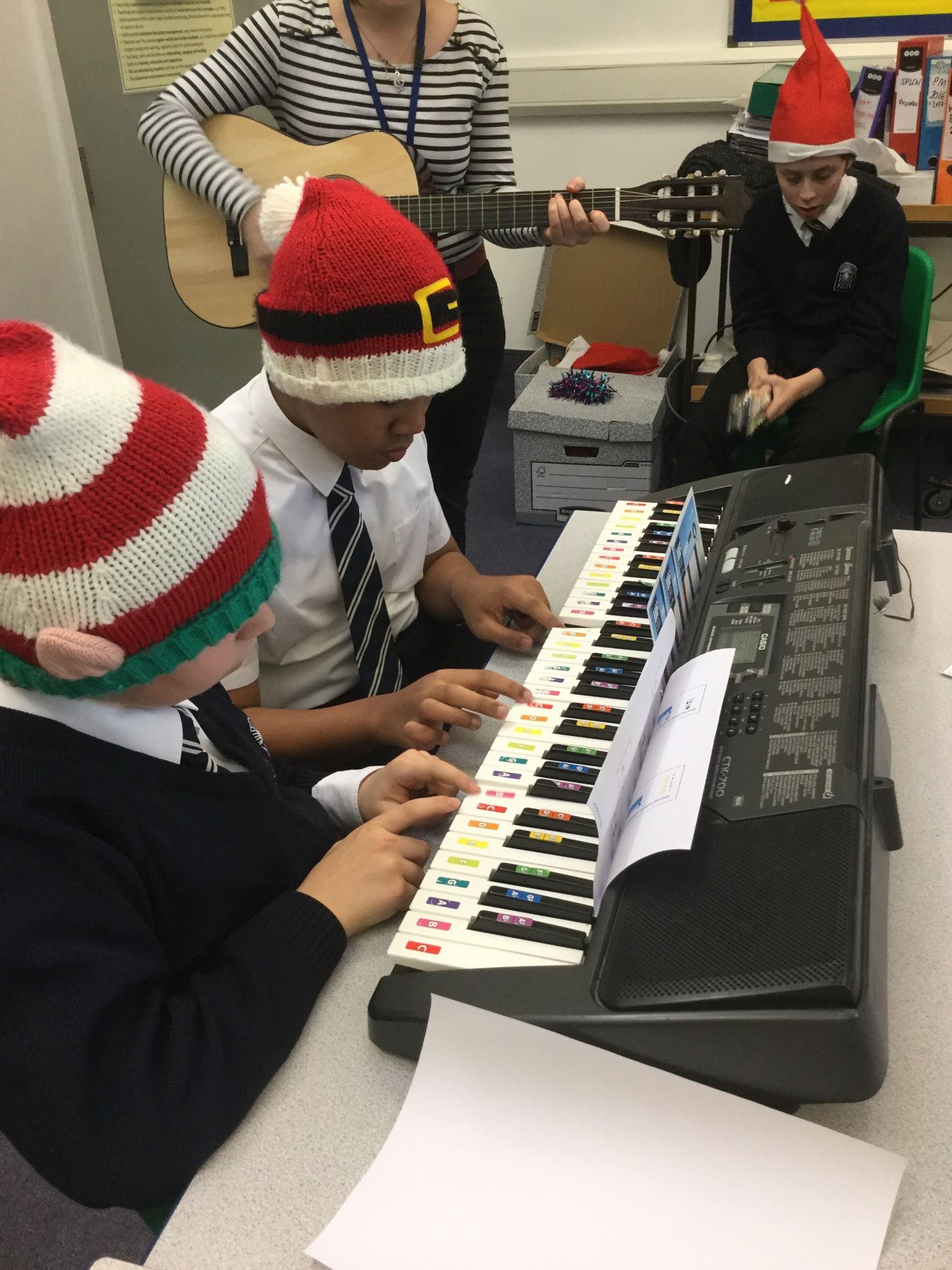 Intent – What is Woodlane aiming to achieve through its Performing Arts curriculum?
To develop a love of the Music and Drama.
To develop the habit of listening to Music widely and for enjoyment.
To use Music and Drama in order to support and enhance social interaction.
To engage pupils through multi-sensory lessons.
To develop communication skills to express pupils' emotions and thoughts through a range of creative techniques.
To develop literacy skills through lyric based song writing projects and engaging in drama based script writing/reading.
To engage with Music as a therapeutic medium, developing pupils' skills for emotional self-regulation.
Implementation – How is the Woodlane Performing Arts curriculum delivered?
Curriculum Delivery
Pupils have full access to Performing Arts (Music and Drama) which is differentiated to meet pupils' learning needs and styles.
The Performing Arts curriculum is designed to be challenging, appropriate to each pupil's stage of development.
The Performing Arts Curriculum offers opportunities for cross-curricula learning, to ensure pupils make significant personal development, including:

Theme Day Workshops;
End of Year Talent Show;
After school and lunchtime Music Club;
Individual Instrumental lessons or targeted sessions;
Engagement with Tri-borough Music Hub activities and events;
Communication development through Drama and Music elements i.e. spoken language activities, song writing projects and assembly performances.
The KS3 Performing Arts curriculum is taught through:

Bi-weekly 50-minute Music lessons with a Music teacher for all KS3 pupils.
Bi-weekly 50-minute Drama lessons with the Transition Leader for those pupils in Year 8 and 9.
Weekly 50-minute Drama lessons with the Transition Leader, supported by the Speech and Language Therapy team, for those pupils in Year 7.
Pupils in the Nurture Class have an additional 50-minute music/communication sessions lesson weekly to work on key communication elements from their EHCP.

Where a pupil is identified as gifted and talented, further targeted support including 1:1 lessons, may be provided.
Where a pupil has a need that can be supported through music or drama-based provision, e.g. Music therapy, this may be explored.
The Performing Arts curriculum is designed to build and expand on previous skills and subject knowledge, over KS3. It also plans for opportunities for repetition to embed knowledge, increasing the chance of information recall and to integrate new knowledge into larger ideas (view our Performing Arts curriculum map in Appendix).
We offer qualifications in Music, which are selected to appropriately challenge, based on each pupil's stage of development, including:

Certificate based Music Unit qualification (AQA Unit Award Scheme) at Level 1, Entry Level or Pre-Entry Level.
Opportunities for an individual pupil to take external qualifications, (grades) with support from the Music Teacher.
The skill of performing is important to us, we therefore also provide pupls will opportunities to perform or contribute to school assemblies and when appropriate events such as a talent show year.
We provide additional extra-curricular activities including:

After school music club;
Lunchtime music club;
Music and Performance activities in the playground, (stage area) weekly;
Opportunities for pupils to 'dress up' as characters from books in World Book Day events, or take part in role-play activities, e.g. assume the role of an interviewer through PSCHE - Careers Learning.
Teaching and Learning
Our pupils are taught by a specialist musician who has experience working with SEND pupils. The school employs this teacher through the Tri-Borough Music Hub to ensure appropriate support and line management is in place.
Teachers delivering Drama sessions have a wide range of skills and expertise at using drama to support delivery of the curriculum learning.
The Performing Arts curriculum is differentiated broadly into 3 levels of challenge, 'all', 'most' and 'some'. Further differentiation and personalisation is implemented when required.
In Performing Arts we have a 3-tiered approach to supporting a pupil's learning, including:
Universal – this is the teaching your child will receive from the Music subject teacher and will include adaptations to match learning needs. All classes:
The opportunity to learn performance-based skills on a range of musical instruments.
The opportunity to learn basic song writing and music production techniques.
Develop listening and communication skills with practical group work in both Drama and Music.
Are supported by a trained classroom teacher.
Have approximately 10 pupils per class to ensure there is a high level of support available from the teacher and TA;
Are multi-sensory;
Have opportunities to use tools and technology to support and enhance their progress and enjoyment, including Garage band music production software and video cameras to evidence work.
Developing skills to help pupils with social and emotional needs (such as ASD) access music as a therapeutic medium.
Maximise progress by using the assessment program B-squared.
Targeted­ – it may be appropriate to consider making additional short term special educational provision to remove or reduce any obstacles to your child's learning. This takes the form of a graduated four-part approach of a) assessing your child's needs, b) planning the most effective and appropriate intervention, c) providing this intervention and d) reviewing the impact on your child's progress towards individual learning outcomes. Interventions may include:
Certificate based qualifications through the AQA unit award scheme.
One to one instrumental or vocal lessons for named pupils.
One to one help with performance skills and encouragement to perform in public settings.
Specialist – it may be necessary to seek specialist advice and regular long-term support from a specialist professional in order to plan for the best possible learning outcomes for your child.
Assessment
Pupils collate class books, where they showcase their best work and progress over time in Music and Drama. Evidence of these activities is also available cross-curricular where it takes place in different lessons, e.g. PSCHE – Careers Learning.
Pupils complete work on iPad/Computers that is stored and accessible at times of assessment or to showcase achievement with parents/key professionals.
Our bespoke Flight Path is used to track the progress of pupils in Performing Arts and determine expected outcomes from different starting points.
Performing Arts teachers use a range of formative and summative assessment procedures to assess progress and attainment, including:

daily marking;
self/peer assessment;
AQA unit award scheme
B-Squared etc.
Impact – What difference is the Performing Arts curriculum making on pupils?
The vast majority of pupils meet or exceed their expected progress in Music
Where pupils take a qualification, the vast majority meet or exceed their expected outcomes.
Pupils identified as gifted and talented are encouraged to continue their learning within Performing Arts past KS3. These pupils may take a qualification, such as Unit Award Scheme.
Pupils are well-prepared for the next stage of their education.
Performing Arts is embedded across the school and feeds into all subjects. Excellent progress in this subject has a significant benefit for pupils in all other subjects, such as English.
Pupils develop a love of performance and their confidence has been shown to increase throughout their time.
Functional skills and life-skills are embedded in the Performing Arts curriculum and are personalised for each pupil. This supports pupils to make the leap to post-16 provision and meets their needs when entering the world of work.