French and Spanish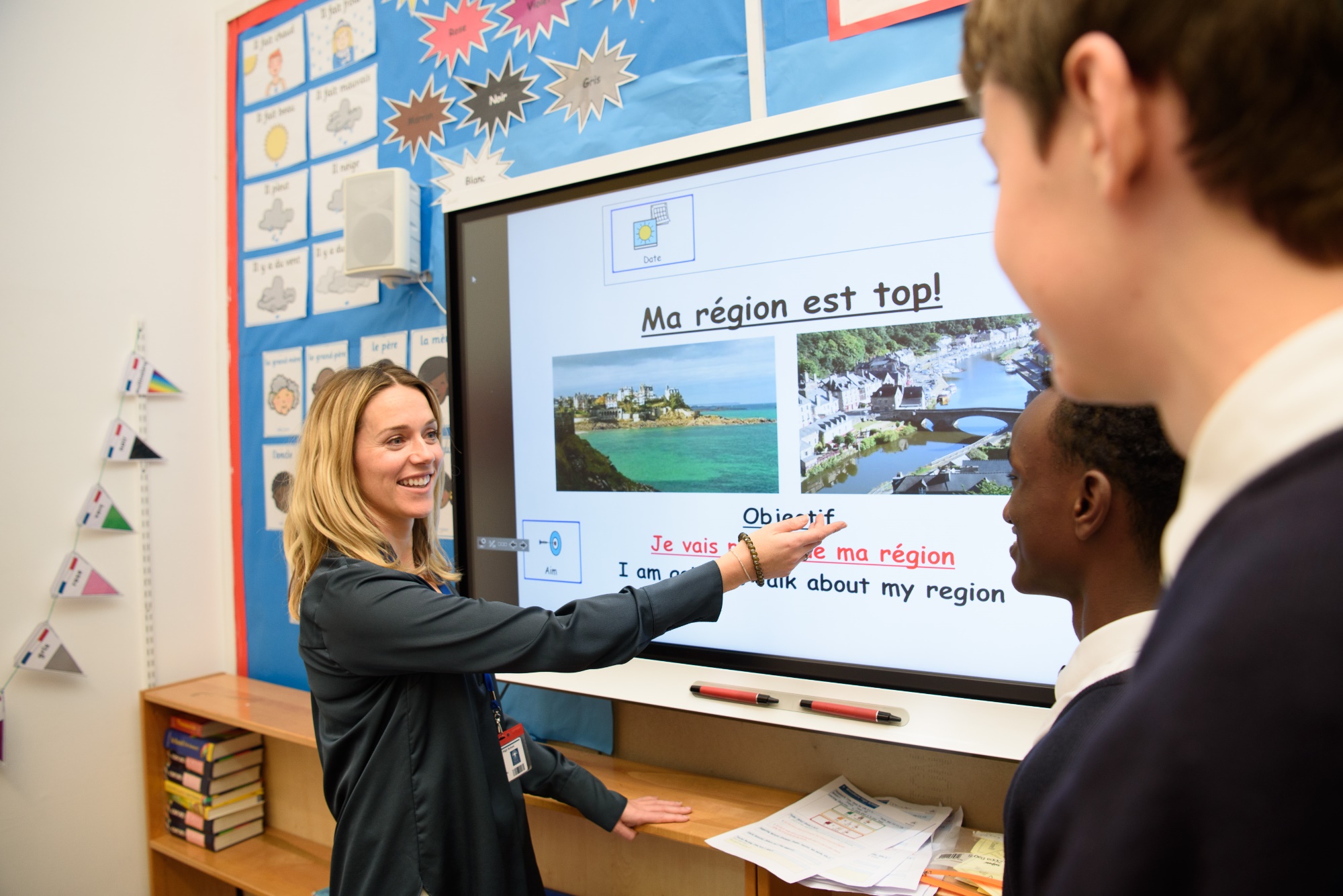 Navigate to the following curriculum areas using the topic buttons below:
Intent – What is Woodlane aiming to achieve through its curriculum?
To develop a love of language learning.
To focus on communication for real purposes.
To develop the four skills of listening, speaking, reading and writing.
To acquire a good basic level vocabulary in French.
To develop an appreciation for different cultures.
To engage pupils through multi-sensory lessons.
To develop self-confidence.
To ensure all pupils leave Woodlane with a French qualification which reflects the best of their ability.
Implementation – How is the Woodlane curriculum delivered?
Curriculum Delivery
Pupils have full access to the French National Curriculum which is differentiated to meet pupils' learning needs and styles.
The French curriculum is designed to be challenging, appropriate to each pupil's stage of development.
The French Curriculum offers opportunities for cross-curricular learning, to ensure pupils make significant personal development, including:

café trips/cinema trips;
educational visits to France;
SaLT strategies/Word Aware integrated in to teaching;
communication development through role-plays and spoken language activities, i.e. presentations; and language games.
use of ICT (MFL specific websites/software) to reinforce learning and provide opportunities for out of class learning; and to create own work.
The KS3 French curriculum is taught through 0.83 hours (average) contact time per week, (3% curriculum time).
The KS4 French curriculum is taught through 1.67 hours contact time per week (7% curriculum time).
The French curriculum is designed to build and expand on previous skills and subject knowledge, over a 5 year period. It also plans for opportunities for repetition to embed knowledge, increasing the chance of information recall and to integrate new knowledge into larger ideas (view our French curriculum map here).
We offer two qualifications in French, which are selected to appropriately challenge, based on each pupil's stage of development, including:

Edexcel French (GCSE)
Non-Qualification French Units for learners below Entry Level (AQA Unit Award Scheme)
The love of learning is incredibly important to us, we therefore also run a Language Day, where pupils participate in exciting workshops with a variety of cross curricular activities.
We provide additional extra-curricular activities at lunch time, including:

GCSE French speaking support
Opportunities to support pupils with homework
Teaching and Learning
Our pupils are taught by subject specialists.
Our French Subject Leader is well qualified, possessing a PGCE in Secondary MFL and BA (Hons) in French and International Business Studies.
The French curriculum is differentiated broadly into 3 levels of challenge, 'all', 'most' and 'some'. Further differentiation and personalisation is implemented when required.
French homework is provided on a standardised format and is differentiated to provide the appropriate level of challenge (see here for further details).
In French we have a 3 tiered approach to supporting a pupil's learning, including:
Universal – this is the teaching your child will receive from the French subject teachers and will include adaptations to match learning needs. All classes:
are supported by a teaching assistant (TA);
have a maximum of 10 pupils per class to ensure there is a high level of support available from the teacher and TA;
are multi-sensory;
are dyslexia friendly (click here for further details);
integrate speech, language and communication support; and
are supported either directly or indirectly by speech and language therapists (click here for further details).
Targeted­ – it may be appropriate to consider making additional short term special educational provision to remove or reduce any obstacles to your child's learning. This takes the form of a graduated four part approach of a) assessing your child's needs, b) planning the most effective and appropriate intervention, c) providing this intervention and d) reviewing the impact on your child's progress towards individual learning outcomes.
Interventions may include:
one to one support from specialist French TA;
specific GCSE intervention for targeted pupils; and
termly French targets.
Specialist – it may be necessary to seek specialist advice and regular long term support from a specialist professional in order to plan for the best possible learning outcomes for your child.
Assessment
Pupils collate Pupil Achievement Books, where they showcase their best work and progress over time in French.
Our bespoke Flight Path is used to track the progress of pupils in French and determine expected outcomes from different starting points (click here for further details).
French teachers use a range of formative and summative assessment procedures to assess progress and attainment, including:

daily marking (click here for teaching and learning policy);
self/peer assessment;
targeted questioning using iPads with teacher feedback
informal/formal examinations;
French homework;
End of unit skill tests in listening, speaking, reading and writing and
B-Squared etc.
Impact – What difference is the Woodlane curriculum making on pupils?
The vast majority of pupils meet or exceed their expected progress in French (click here for further details).
The vast majority of pupils meet or exceed their expected outcomes in French (external qualifications) (click here for further details).
Most pupils who select French as an option in KS4 leave Woodlane with one formally recognised French qualification.
Pupils leave well-prepared to use basic French in real life contexts.
All pupils develop their speaking and listening skills to interact with others.
All pupils develop their writing skills and use of ICT.
All pupils can work successfully in a team and will improve their self-confidence.
All pupils improve their presentational skills.
* Please see annual SEF/SIP for further details.