Dyslexia Friendly
In 2009, Woodlane became the first school in Hammersmith and Fulham to receive the accolade of being a 'dyslexia-friendly' school.
According to the BDA (British Dyslexia Association) one of the basic principles of becoming a dyslexia-friendly school is the expectation that teachers take immediate action when faced with learning needs. In a dyslexia-friendly school, all teachers are empowered through training, policy and ethos to identify issues and take front line action. Following an inspection of the school, the BDA recognised our success in these areas and granted us the quality mark. In 2012 and once again in 2017 we renewed our status, please read the reports below. Again in 2021, our status was renewed for another 3 years.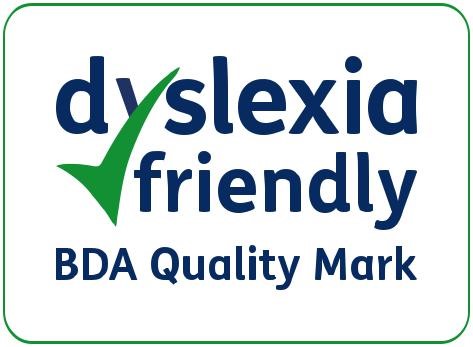 In keeping with being 'dyslexia-friendly' our website provides the option to select your preferred background and font choice.
What is dyslexia?
Dyslexia affects 10% of the UK population and is a learning difficulty that can make reading, writing and spelling extremely challenging. Research indicates that people with dyslexia find it difficult to connect the sounds they hear to the written letters which make up the words on a page. Dyslexic learners may also have accompanying weaknesses in short term memory, sequencing and the speed at which they process information. There is no correlation whatsoever between a person with dyslexia and their IQ.
What makes Woodlane 'Dyslexia-Friendly'?
Woodlane has always been dedicated to accommodating children with Specific Learning Difficulties and therefore much of the practice outlined in the BDA guidelines was work that we had already put in place. Making our school dyslexia-friendly wasn't just about catering for those who have been formally diagnosed with the condition; our belief was that making the school accessible to the dyslexic pupil would benefit all our students in one way or another. Below are just a handful of examples of what we have been praised in achieving:
conducting expert training for all staff in dyslexia and the dyslexic student;
enabling pupils to be supported in lessons through a wide range of resources and teaching styles;
making the subjects colour-coded to allow pupils to access the building and their timetable more efficiently;
offering consistently excellent TA guidance and support.
Where can I find out about dyslexia?
If you would like to find out more about dyslexia, including how you can best support your child at home, please contact Jenny Jermain/Nadia Martin or you can log-on to the British Dyslexia Association (BDA) website: www.bdadyslexia.org.uk