Assessment - Outcomes
2020/21 Headline Results (Reported on in September 2021):

The proportion of pupils exceeding expectations rose by almost 2% year on year.
Foundation subjects achieved 98% of pupils meeting expectations and over 80% exceeded.
The percentage of pupils achieving below their expected outcome decreased 2.3% to 3.3%.
100% of pupils met expected outcomes within 5 subjects: English, Art, Computing, French, and PE.
100% of pupils exceeded expected outcomes within 3 subjects: Art, French and Computing.
Substantial Progress: The achievement of Year 11 pupils in all qualification subjects in 2020/21 continues to be outstanding. This is because pupils progress well from their different starting points and achieve or exceed standards expected within the school's own curriculum and in comparison, with other outstanding SEND schools. Pupils attain relevant qualifications so that they can and do progress to the next stage of their education.
Sustained Progress:
The vast majority of pupils meet and exceed expectations in qualification subjects. The proportion who meet expectations remains high year on year. The proportion exceeding has risen slightly. The overall trend over 6 years is substantially up.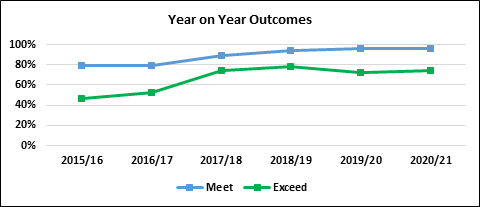 For further analysis of outcomes, including analysis of subjects individually and the progress of key groups, please download the Outcomes for Pupils 2021 Executive Summary below.
Woodlane also explores outcomes achieved through a comparison of DfE published data available through Analyse School Performance (formally Raise Online). For further analysis, please visit the Assessment - Comparison page.