Assessment - Comparisons

Comparison With Other Schools (2019)
A key way to evidence the excellent progress of pupils at Woodlane is by comparing available data with other schools. This published data is available on: https://www.compare-school-performance.service.gov.uk/school/100379/woodlane-high-school
This is the full-dataset from all schools in the country and it is possible to filter down further to undertake direct comparisons with individual or groups/categories of schools.
The most realistic comparison is with SEND schools who cater for the same age ranges as Woodlane. This leaves a comparison with 459 similar schools. The number of Community SEND schools, (as the data describes them) fell by 33 from 492 schools in 2018, and there are 71 fewer than in 2017. Some of these school's results were suppressed due to small cohort sizes.
When ranking all the schools by Progress 8, Attainment 8 or Total Attainment 8 scores, it is possible to see where Woodlane ranks nationally.
Progress and Attainment – Published Scores
Woodlane's published scores are as follows:
Progress 8: -1.84
Attainment 8: 7.1
Total Attainment 8: 114.3
% of Pupils Entering EBacc: 0%
% of Pupils Achieving a Grade 5+ in Eng and Math: 0%
These scores can be misleading, as Woodlane pupils SEND means that a pupil achieving a grade 5 in English and Maths is extremely rare, and the full EBacc range of qualifications is not suitable. The published scores also include pupils who are formally on-roll at Woodlane but attend the Medical Needs Unit provision. These pupils were attending mainstream schools, so their prior attainment (KS2) is very high, but due to critical mental health or medical needs are unable to attend school regularly and rarely complete formal qualifications in line with this prior attainment. This leads to these pupils having significantly lower scores for progress and attainment compared to Woodlane's main school pupils.
Progress and Attainment - Adjusted
This is a situation unique to Woodlane. Therefore the school has removed these five pupils from the data set, which produces the following scores: (this adjustment was completed on the ASP dataset)
Progress 8: -1.24 (Progress 8 improves by 0.6)
Attainment 8: 9.02 (Attainment 8 improves by 2.01)
Total Attainment 8: 108.25 (Total Attainment fell by 6)
Progress 8
Progress 8 is a score that shows how much progress pupils have made between the end of key stage 2 and the end of key stage 4. These pupils are compared with their peers across England who achieved similar results at the end of that key stage.
The Progress 8 score is determined by how well pupils perform in up to 8 qualifications, which include; English, Maths, 3 English Baccalaureate qualifications including Science, Computer Science, History, Geography and Languages, as well as 3 other approved qualifications. Not all qualifications offered at Woodlane are approved under the new Progress 8 Performance Tables. This score is more significant as a measure for mainstream provisions, if used with caution it can be useful for SEN.
Using the adjusted score of -1.24, the school was ranked 16th nationally, a rise of 56 places from 2016/17, (when there were a high proportion of MNU pupils within the data), and slightly above 2015/16 when the school was ranked 19th. In 2 out of the last 3 years, Woodlane has ranked well inside the top 5% of schools nationally.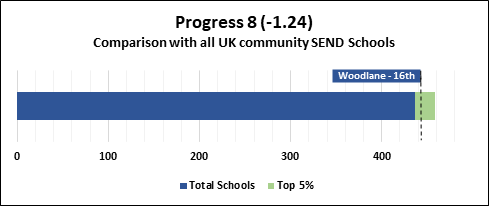 Attainment 8
Similar to Progress 8 (above), the Attainment 8 score is determined by how well pupils perform in up to 8 qualifications, although it does not take in to account the pupil's start point (KS2) and their value added progress. This score can be used as an indicator of the range of qualifications on offer, the recognition given to these qualifications and pupil's success when completing them.
Using Woodlane's Attainment 8 score of 9.02, the school was ranked 31st nationally in 2017/18, down 5 places from 2016/17 and 6 places from 2015/16. Woodlane ranks around the top 5% of schools nationally each year.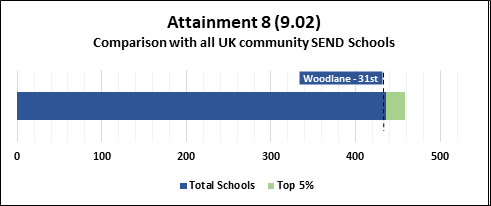 Partnership Schools and Direct Comparisons
Using this data for direct comparison with other school's (names have been anonymised) showcases a very strong position. Current Ofsted grading is included in brackets for reference.
Progress 8 Compared to Other Schools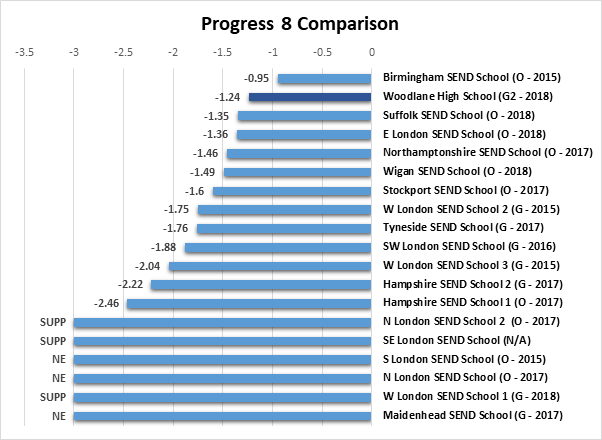 Attainment 8 Compared to Other Schools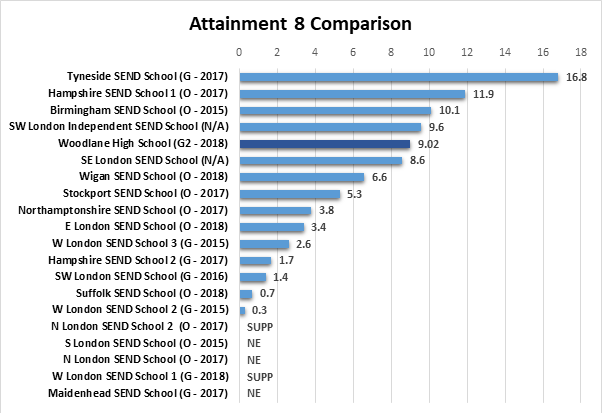 One of Woodlane's unique selling points is the high number of quality qualifications on offer and extensive support for pupils to achieve these. Woodlane has a comprehensive GCSE curriculum which not only scores highly in these comparisons, but allows Woodlane pupils to make rapid progress, going on to further education and preparing them for the future.
Download the attached document for further information and analysis.
If you are a school who wishes to conduct some comparisons of internal or external data, please get in touch through the school email address or telephone number.