Celebration of 2020

This term we have focused on celebrating the positives that we have experienced from this year during the pandemic.
Although this has been a challenging time, we as a school wanted to focus on some of the iconic and memorable experiences that we have shared as a society. The Black lives matter movement, clapping for the NHS, spending extra time with family, home working and learning are just some of the iconic moments of this year. At Woodlane we came together to create bespoke Art works inspired by 2020. Pupils worked together in their bubbles in designing and producing these pieces to express gratitude for the moments and experiences we are thankful for.
Year 10 and Year 11 worked with Mr Freitas and produced the below series in celebration of 2020.
Our 2020 collage was created by Year 10 using

highlighted newspaper articles, headlines and propaganda from this year. Pupils used spray-paint to imprint the infamous '2020' title.

'The new normal' inspired by the Mona Lisa and Jackson Pollock. Year 11 combined the work of Leonardo Da Vinci and Pollock to create what is very much the new normal in society. Pupils used acrylic and ready-mix paint to create the expressive, yet refined curation of canvases.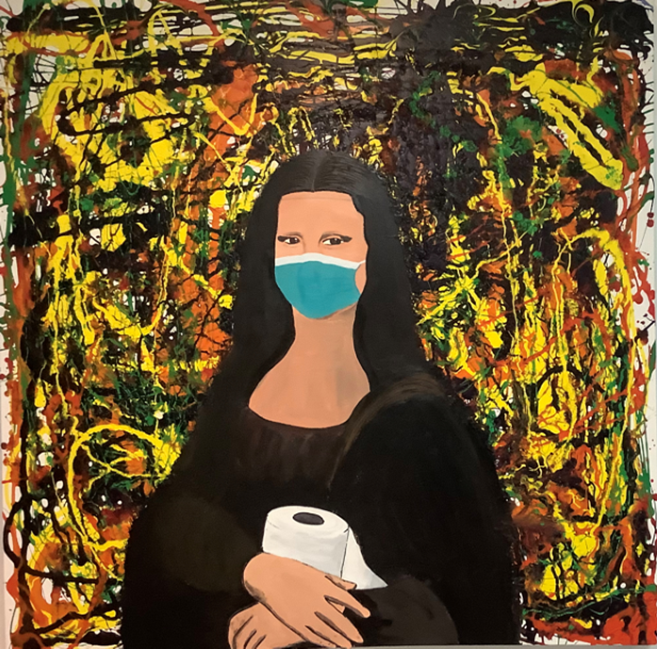 Thank you NHS- The iconic rainbow which represents the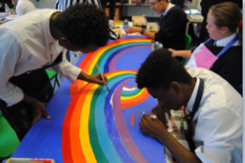 relentless work and commitment from our NHS this year was created using spray paint and acrylic markers. This work is now on display around the school building.