In this section...
Assessment - Comparisons

Woodlane has compared itself with other schools locally and further afield using a range of performance measures. Data below , alongside other rigourous forms of assessment, suggest that progress at Woodlane is outstanding. Please see our SEF for more information on Woodlane's current self-evaluation. All data/graphs below is for 2016-17 unless otherwise stated. Further updates are only possible when the DfE publish full performance tables.
All meaningful comparisons must take place with similiar schools using any available data sources, these may include;
Raise Online data and Performance Tables (492 schools in 2016-17)
Internal Progress Data (where available)
School Outcome Data (where available)
Total Attainment
The Total Attainment score is the sum of all recognised qualifications achieved by all pupils at Woodlane for the last Year 11 cohort. Using Woodlane's published score of 218.8 in 2016/17 Woodlane was ranked 12th in the country for total attainment, moving up 2 places from 2015/16.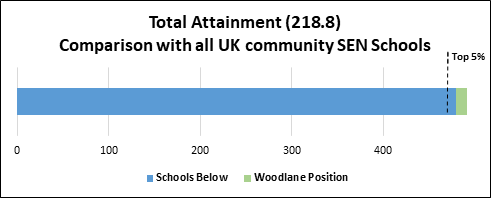 Attainment 8
Similar to Progress 8 (below), the Attainment 8 score is based on how well pupils have performed in up to 8 qualifications, which include English, Maths, 3 English Baccalaureate qualifications including Science, Computer Science, History, Geography and Languages, as well as 3 other approved qualifications. Not all qualifications offered at Woodlane are approved under the new Progress 8 Performance Tables. Using Woodlane's published score of 9.5 for Attainment 8, the school was ranked 26th nationally in 2016/17, up one position from 2015/16.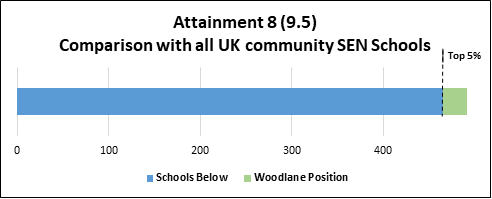 Progress 8
Progress 8 is a score that shows how much progress pupils have made between the end of key stage 2 and the end of key stage 4, when compared to all pupils across England with similar results at the end of that key stage. In terms of the qualifications that are accepted, Progress 8 also only analyses 8 qualifications, identical to the rules described above for Attainment 8. Using Woodlane's published score of -1.57 for Progress 8, the school was ranked 72nd nationally out of 492 in 2016/17, down 53 positions from 2015/16. Woodlane's Progress 8 score of -1.2 in 2016 was compared to data from 530 similar schools, Woodlane ranked 19th, within the top 3%.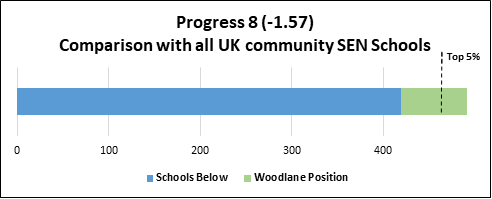 Partnership Schools and Direct Comparisons
Using this data for direct comparison with other school's (names have been anonymised) also showcases a very strong position. Current Ofsted grading is included in brackets for reference.
Progress 8 Compared to Other Schools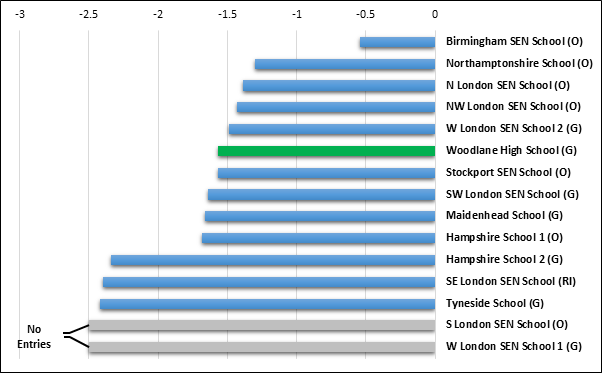 Woodlane compares it's to the best similar schools locally and wider afield. Woodlane continues to achieve highly within Progress though the full report (downloadable below) containes additional information which is very relevant here.
Attainment 8 Compared to Other Schools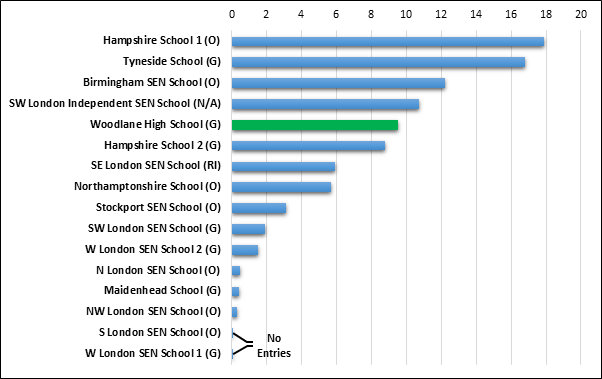 One of Woodlane's unique selling points is that we offer a high number of quality qualifications, including a comprehensive GCSE curriculum. The above tables demonstrate that this dedication to higher level learning places Woodlane amongst the highest attaining special schools.
Download the attached document for further information and analysis.
If you are a school who wishes to conduct some comparisons of internal or external data, please get in touch through the school email address or telephone number.